Tipping is not considered obligatory, but it's an accepted expression of gratitude for certain services granted. Just as we would never leave a restaurant without tipping our servers, those behind the efforts to pull off the perfect wedding should not be forgotten either.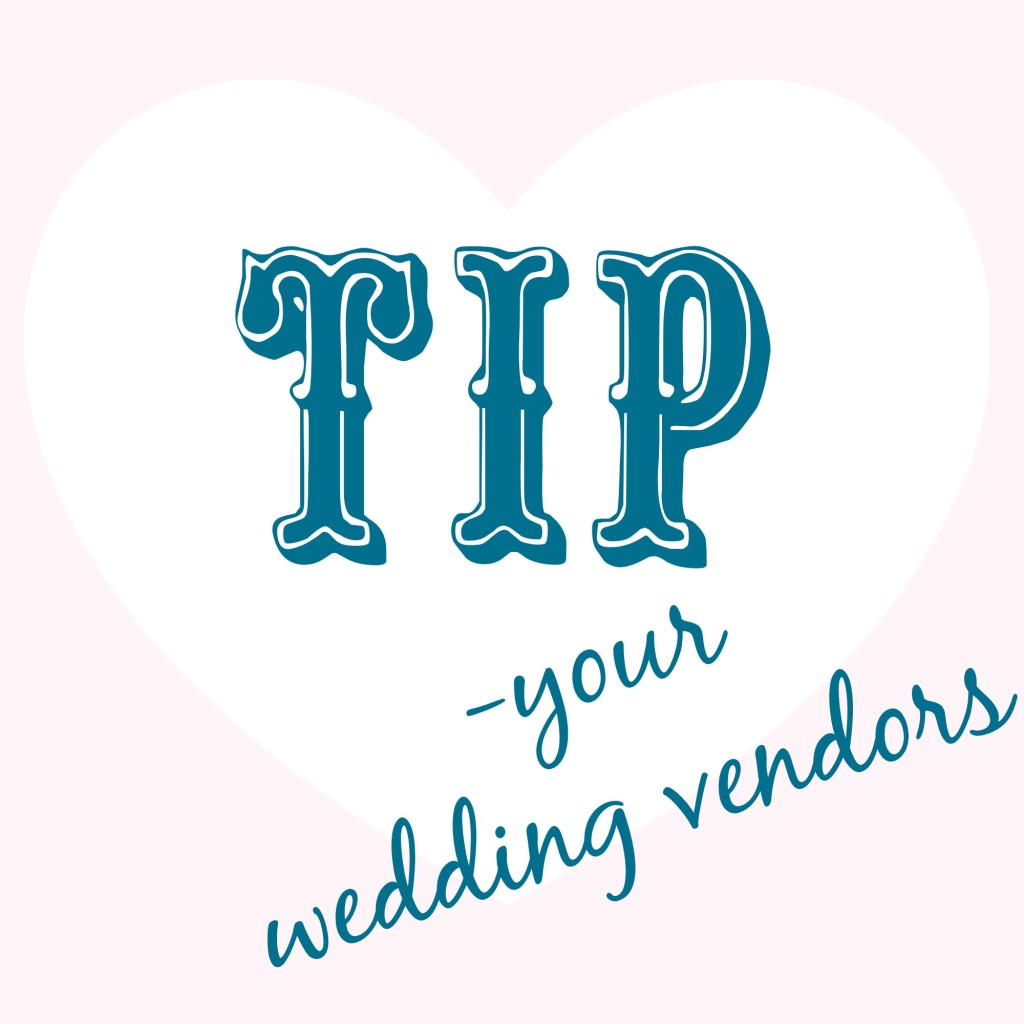 For potential brides and grooms, determining who should be tipped and how much that amount should be is often left to the very end — when they are already juggling dozens of other last-minute details.
 Here are a few guidelines to help you navigate this important element of your wedding:
Whether it's one of the fathers, the best man or a maid of honor, assign someone the duty of handing out envelopes holding cash tips. Pay these either at the time of service (hair and makeup), at the end of the wedding (allowing you to adjust the tip to reflect the service), or at the beginning (vendors are more likely to provide excellent service if tipped before the wedding).
Traditionally, business owners of larger companies don't get tipped — just their employees — but you can/should tip an owner when the service exceeds expectations. Small business owners should never be overlooked either, since their businesses are often run by just one person.
Wedding planners won't likely expect anything; however, if yours exceeded expectations you can always give a small percentage of the total bill. Approximately 50 percent of couples do tip their planners, but these are typically those with holding more opulent weddings. Remember, non-monetary thank-yous such as professional photos of the wedding for the planner's portfolio can go a long way, too.
If your officiant is affiliated with a church or synagogue, you're normally expected to make a donation to that institution, and tipping the officiant is also appreciated. If you're a member you'll probably want to give a larger amount than if you're not. However, if you're getting married there and they're charging you to use the space, feel free to give a smaller amount.
When it comes to bartenders, waitstaff, parking, bathroom, and coat-room attendants the rules of tipping are dictated by your contract. If the service fee is included, consider doling out extra only if the service was exceptional. If it's not included, ask ahead of time how many attendants will be working your wedding and calculate on a per person basis.
Here is a general guideline for tipping amounts:
Bartenders: 10 percent of total liquor bill (split among them)
Bathroom attendants: $1 to $2 per guest
Catering manager: $200+ (or a personal gift)
Chef: $100+
Coat check attendants: $1 to $2 per guest
Hairstylist: 15 to 20 percent
Hotel chambermaids: $2 to $5 per room; $10 to $15 if you used a suite as your dressing room
Limo or bus drivers: 15 percent
Maitre d'hotel or headwaiter: 1 to 3 percent of food and beverage fees
Makeup artist: 15 to 20 percent
Musicians: 15 percent of fee for ceremony musicians; $25 to $50 per musician for reception
Photographer/videographer: $100
Valet or parking attendants: $1 to $2 per car; 15 percent for valet parking
Waiters: $20 and up each (distributed by the catering manager)
Wedding planner: 15 percent of fee (or a personal gift)